Villa Lamang
£1523 average per night
A Mere Few Steps Away From The Beach And Including A Private Pool, Villa Lamang Makes For An Incredible Choice Of Holiday Accommodation In One Of The Most Luxurious Resorts Located Glittering Emerald Bay In Phuket!
Sleeps 3
1 Bed
1 Bathroom
Gallery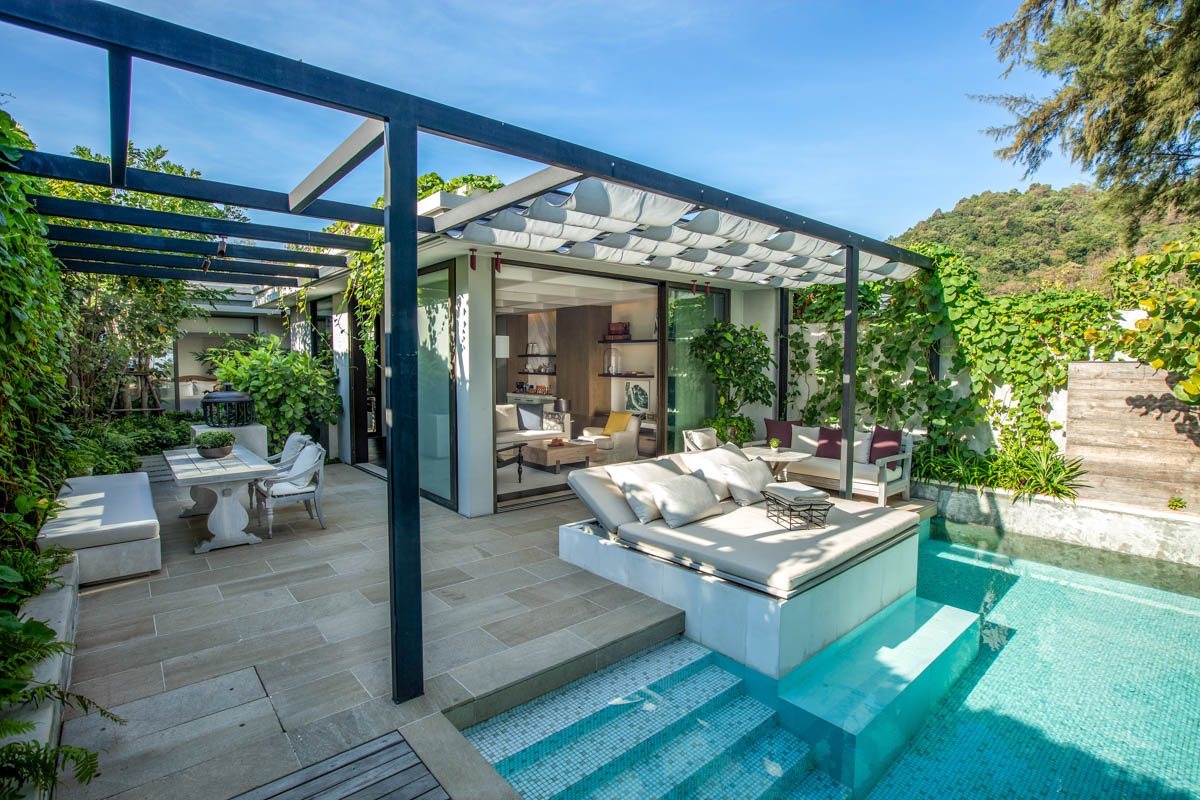 General information
Internet access
Wifi
Air conditioning
Satellite/Cable TV
Television
Kitchen and household
Safety
Location
0.2KM
0.3KM
1.6KM
0.6KM
0.5KM
Description
A mere few steps away from the beach and including a private pool, Villa Lamang makes for an incredible choice of holiday accommodation in one of the most luxurious resorts located Glittering Emerald Bay in Phuket! Villa Lamang is a one-bedroom, spacious villa offering 326 square meters of bliss, accommodating couples and groups of guests of up to three people. Superbly finished, this villa has all that you will need and more, during your stay in Phuket. This delightfully, roomy villa offers a tranquil atmosphere. The exquisite wood furniture with stone touches blends seamlessly with the tropical settings. All the space throughout the villa is basked with natural light thanks to the floor to ceiling windows that allow the surrounding nature and the villa to become one. The master bedroom is separated from the living and dining room and is enclosed by the dense tropical lush that gives you even more privacy. The designer bed with Frette linens is the main piece with two sizeable side tables! The highlight is perhaps the elegant bathroom with double vanities and an outside courtyard with a deep soaking bathtub and rain shower! This is the perfect spot to settle in for a relaxing soak in such a luscious environment. The villa has a spacious living and dining area, comfortably furnished for relaxing and entertaining, featuring floor to ceiling sliding windows that connect to the terrace. As you step out of the living room, you're met immediately by an expansive sun terrace within the privacy of plush, landscaped gardens that have different spaces for relaxation or entertainment so you pick the mood! For sunbathing, the daybed is the perfect spot to take it easy with a cocktail or pop open a bottle and cool off on the spacious pool with views of the Andaman Sea! If you are travelling with a group but at the same time you want your privacy, connecting villas are available and joined by a door in the outside courtyard. A range of holistic wellness, apparent throughout the resort, awaits you upon your stay. Choose from a full range of signature treatments and alternative therapies, lovingly built on the foundation of increasing your well-being! The resort offers 24/7 services such as meals delivered to your room, a fitness centre and additional facilities such as a Kids Club!
A visit to Thailand is a must on most bucket lists, and once in the country, it is not hard to see why! Fantastic landscapes blend harmoniously with buzzing districts to provide a plethora of things to do in this amazing nation! Phuket is an island, situated in the south of the country, in the Andaman Sea. Remarkable mountains paint the backdrop nearly everywhere you go and the colourful and bright buildings that sit on streets, reflect that ambience apparent throughout the island! Experience the resort's range of activities, on offer year-round! Get up close and personal with colourful reefs and amazing marine animals by way of snorkelling, or you can take it deeper, literally, with diving. For those who wish to stay above the water, grab a sea kayak and be the master of your own adventure as you explore miles of scenic coastal lines, explore caves and stunning mangroves. For a more grand experience, take a helicopter tour and admire breathtaking views from the skies as you fly around Phuket or head onto a luxury yacht to indulge in lavishness amidst the picturesque scenes on the sea! Within just a few steps from the front door of Villa Kayala, emerge onto the white sugary sand of the semi-private Tri Trang Beach and swim in the crystal-clear turquoise blue lagoon water! This private beach will bring you the exclusivity and bliss that you may have never known you needed! Just a five-minute drive away, Paradise Beach makes for a wonderful place to enjoy beach fun, and as the name suggests, the beach is heavenly. Guests will be glad to know, food and drink are available at the beaches as well as an array of motorised and non-motorised water-based entertainment options! For those who wish to enjoy revelling and having uninhibited fun, Phuket is the place to be! Known worldwide for its nightlife, with a massive selection for all tastes and moods. Take it easy in a sunset bar and enjoy delicious cocktails and intimate chatter on rooftops watching the sunset on the island. Or head into town and into the variety of clubs where you can dance and sing the night away. Make sure its a night that you never forget and head into the karaoke bars to sing along to your favourite tunes!
The Villa Just moments from a tropical beach, Villa Lamang feature a master bedroom separated from the living and dining room by an outdoor courtyard. There are a double bedroom and a bathroom, and it can accommodate up to 3 people Ground Floor - Double bedroom with king size bed convertible into twin beds - Bathroom with shower & bathtub - Living & dining area - Access to the terrace & pool area Exterior Grounds - Infinity private pool - Daybed - Sitting & dining area - Covered terrace - Large terrace area Additional Facilites - Exquisite Thai welcome amenity - Designer bed with Frette linens - Touch-panel in-room technology system - WiFi & wired high-speed Internet access - 48" high-definition stereo LED Smart TV with high-speed Internet access - Fully stocked personal bar - Nespresso coffee machine & tea kettle